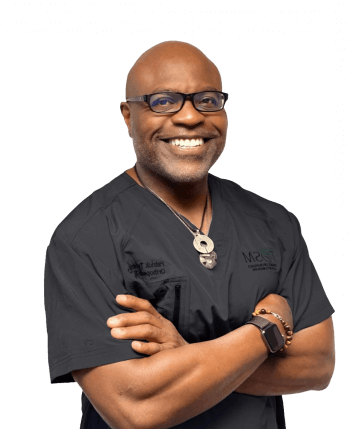 Prior to becoming an Orthopedic Surgeon, he was a former All-Conference and Academic All-American linebacker at the University of Nebraska and drafted by the LA Rams before completing medical school and orthopedic surgery training at Harvard.
He is known as a compassionate physician and recognized for his surgical skill. In addition to his private medical practice, Patrick Tyrance, Jr. MD serves as an advisor to a number of healthcare startups and evaluates patented technologies in medicine and healthcare for their commercialization potential.
Believing that the solutions we come to often depend upon the questions we ask, he challenges current paradigms and asks: "Can this be done differently to achieve a better outcome". He believes that individuals and communities are strengthened through collaboration and the exchange of knowledge, and that this sharing creates possibilities and growth opportunities. When providing insights and ideas, he draws from his varied experiences in athletics, education, medicine and business. 
His commitment to making a difference in the lives of others has allowed him to help numerous organizations and individuals over the years. His passion combined with these experiences has compelled him to ultimately start a consulting business in leadership development.
Incorporates integrative, holistic, operative, and non-operative approaches to maximize patient's health and function.
Harvard Combined Orthopaedic Surgery Program Internship: Massachusetts General Hospital, General Surgery
MBA, George Washington University
MD, Harvard Medical School
MPP, Harvard Kennedy School
BS, University of Nebraska-Lincoln
General Orthopedics
Sports Medicine
Shoulder Disorders
Fractures, Sprains & Strains
Human Performance
Pain Management
Joint Preservation Procedures
Foot & Ankle Care
Adult Hip Reconstruction
Adult Knee Reconstruction
Spine Disorders
Trauma
Musculoskeletal lesions
Sports Medicine
Non-surgical Management
Arthritis